Trailblazing on the Internet
in Nahuatl
God speaks to the Aztec People through HIS WORD in their heart language, Nahuatl, now on the Internet.
A. Huastecanahuatl.com
Dick and Pat Beller translated three complete Bibles into three dialects of Nahuatl spoken in the Huasteca region of Northern Mexico (Western Huasteca Nahuatl, Eastern Huasteca Nahuatl, and Central Huasteca Nahuatl).
There have been 33,000 of these Bibles printed; and more than 29,500 Nahuatl Bibles sold ~ which are now in the hands of these precious people!
But, just imagine for a moment that you are a Nahuatl speaker and are wondering what the Bible has to say regarding a specific topic. Where would you look? There is not a published concordance of the words used in the Nahuatl Bibles. How would you quickly locate God's instructions specific for your topic and your time of need?
In 2006, Tami Beller Gaddis (Dick and Pat Beller's daughter) began a personal topical study of the Bible. She did this primarily because she wanted to prepare a resource for her children to consult quickly and receive encouragement and instruction from God's Word. Her topical study included more than 100 topics, although a few topics she delegated to other Bible "scholars" to study.
This database of Scripture that she initially prepared for her children is topically arranged and has been now cataloged in Nahuatl and placed on the Internet in all three dialects.
The website address is:
http://www.huastecanahuatl.com
Although the site is in Nahuatl if you click on the link above you can visit the site. Select a dialect on the top bar like "Oriental." This selection will direct you to see the list of topics available. Select one topic to see how the scriptures are viewed The layout is designed for easy download and quick access.
We pray that this resource will encourage the Nahua people to consult the Bible for their every need. They will be able to quickly locate topic specific Bible verses and passages. The entire verse or passage with its reference is on the website (as you can see). Additionally, at the bottom of the page, they will also see suggested passages for further study regarding a particular topic.
1. Please pray with us that God will use this new avenue to speak to his people.
2. Please pray for the logistics of having an Internet website such as: responding to comments, questions, and prayer requests from the website users.
3. Please pray for the later stages of its development such as: embedding audio hymn files into the topics and the development of a down-loadable "app" for smart phones.
4. Please pray that God would direct us specifically how to advertise the web site's existence and that people who have Internet access would be eager to discuss their discoveries with others.
5. Please pray that God would lead those who have one of the 29,500 Bibles in their hands to read and to study the Scriptures faithfully. Pray God will work in their lives and increase their hunger for Him.
6. If you are a missionary and would like this Bible reference on the Internet prepared in your unique language, please contact us.
Here are some of the topics:
Addictions
Angels
Anger
Anxiety
Baptism
Beliefs
Bible Study
Blessings
Caring for Relatives
Cheating
Children
Clothing: What is inappropriate?
Companions/Company to Keep
Creation
Death of the Believer
Death of the Unbeliever
Depression
Discipline
Discontented? Confused?
Divorce
End Times
Enemies
Failure
Faith
Fatherhood
Fear
Finances
Forgiveness: For Sinners Seeking Forgiveness/Repentance
Forgiveness: For Victims/Forgiving Others
Future
Generosity
Getting Even/Retribution and Revenge
Goal Setting
God: What is God like?
Gossip
The Great Commission
Growing Up
Guilt
Healing Process
Holy Spirit
Husbands
Jesus: Our Savior and the Son of God
Keeping Your Word
Laziness
Leading Others Into Sin
Love
Lying
Manhood
Marriage
Materialism
Motherhood
Mouth: Guarding Your Spoken Words
Obedience
Parenthood
Peace
People Pleaser or God Pleaser?
Prayer: Speaking with God
Preparing for Certain Death/Dealing with Terminal Illness
Pride
Prophecies in the Old Testament fulfilled in the New Testament
Reconciliation
Repentance
Reputation
Resurrection: Jesus rose from the dead and lives today
Retribution and Revenge
Rewards
Salvation: Accepting Jesus Christ as your Savior
Salvation Sharing: Witnessing to Unbelievers Strategically
Satan: The Christian's Authority and Power Over Satan
Self-esteem
Selfishness
Sexual Immorality
Sin: General Sin
Stealing
Suffering
Suicide
Temper
Temptation
Ten Commandments and More
Testimony/Your Behavior
Thankfulness
Trials and Testing
Trusting God
Unplanned Pregnancy
Victory
Waiting for God
Warnings for Life
Wives
Womanhood
Worry
B. xijtemo.com
I received a call from Nahua man named Jose. I have nicknamed him our Nahuatl "Billy Graham" because he has personally taken the JESUS film in Nahuatl to many villages over the past thirty years and distributed Nahuatl Bibles. He was passionate on the phone saying, "Tami, we have to get the Nahuatl audio New Testament on cell phones. Get it on my cell phone and I will go village by village showing the people how they can listen to the Bible on their phone while they work." I told him, "Brother, the audio New Testament is already on the internet." I proceeded to give him the address at scriptureearth.org and then it dawned on me later that the entire website is in ENGLISH. Oh, the content is there in Nahuatl, but the directions and the links are all ENGLISH words. So to meet this need we designed a new website. Everything works on a cell phone. We have kept the design simple. This website is completely different from our concordance website (www.huastecanahuatl.com).
www.xijtemo.com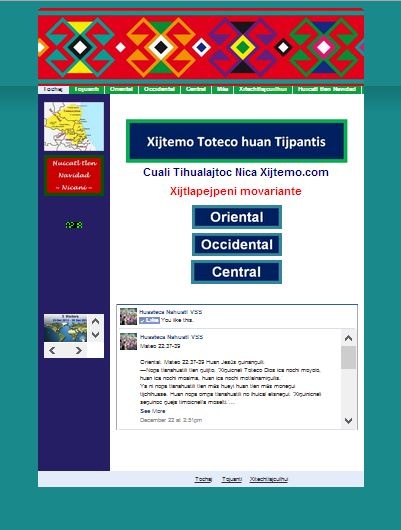 C. xijtemototeco.com
Our Aztec Radio Program website went live on February 13th, 2017! I (Tami) worked with a local programmer who helped me learn coding in PHP. He helped set up the initial structure and then I modified it from there with data and embedded links and files. Every week, after Peter has prepared the message for Sunday and delivered it to the radio station for broadcasting, he sends me the mp3 file in an email. Sundays at 3:00 p.m. Central time the program is broadcast through the Huasteca region of Mexico. We then create a weekly podcast which allows listeners to download the file and listen to it anytime even when they have no internet. It also allows listeners to locate previously broadcast messages. There are also many hymns posted, click "Huicat." If you notice at the very bottom of all pages we have an embedded page that displays when people click on the question: Do you know where you are going when you die? or Tijmati canque tiyas quema timiquis? Click there and you will see a clear presentation of the plan of salvation found in Jesus Christ. We have it laid out in a progression of understanding similar to Romans Road. In 2017, Praise the Lord, 372 people clicked on this question and viewed the Salvation message. We do not know how many individuals responded and prayed the prayer of repentance and asked the Lord Jesus to forgive them of their sins, but we know that God knows each one who has come to a saving knowledge of Jesus through the radio program and the website resources. You will also see that under Película / Video we have links to the three JESUS films in our Nahuatl dialects. We show 2330 visits to the website in 10 months of 2017. We are thrilled to serve the Lord everyday, working with the Kingdom of Heaven in mind! The Aztec Radio program incurs weekly expenses. If you would like your gift to be used specifically for the Aztec Radio Outreach, note: "Radio Program." Please take a moment and visit www.xijtemototeco.com today!